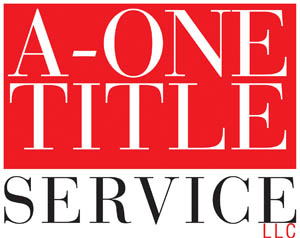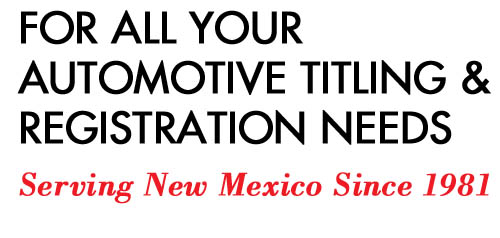 A-One Title Service LLC is fully licenced
and bonded by the state of New Mexico
to provide fee-based MVD services.
• AUTO
• CLASSIC CAR
• TRUCK
• TRAILER
• MOBILE EQUIPMENT
• MOBILE HOME
• MOTOR HOME / RV
• MARINE
• MOTORCYCLE
LET MVD COME TO YOU!
A-ONE TITLE SERVICE LLC
Beverly Stewart-Wilson
Owner, Operator
P.O. BOX 35631
ALBUQUERQUE, NM 87176
PHONE/TEXT: (505) 440-4668
FAX: (505) 281-8178
EMAIL: beverlya1title@gmail.com
A-ONE TITLE SERVICE LLC:
For all your Automotive Titling and Registration Needs.
Serving New Mexico state-wide including Metro Albuquerque, Rio Rancho, East Mountains, Edgewood, Moriarty and Santa Fe.
A-One Title Service LLC serves anyone working in the automotive business industry from auto dealerships to bank and financial institutions to attorneys, as well as general businesses and individuals.
A-One Title Service LLC provides complete customer service with personal attention. A-One Service LLC comes to your business or home with pick-up and delivery and on-site service.
A-One Title Service LLC is available to provide you with complete automotive title and registration services where and when you need it. No wait, no lines, no hassle.
SERVICES PROVIDED:
Title Transfers: Individuals, dealers, businesses, trusts, probates, financial institutions
Out-of-State Dealers Title Processing
Lien Filings: Individuals, businesses, financial institutions
Heavy Vehicles: weight distance, IRP registrations, OS/OW permits
Surety Bond Titles
Dismantler Titles
Duplicate Titles
Mechanics Liens
Storage Liens
Mobile Home Tax Releases
Registrations
Horseless Carriage Titles and Registrations
VIN Inspections
NCIC Clearances
Notary
A-One Title Service LLC will be happy to assist you with any questions you may have as to what forms you may need for your situation as well as questions about filling the forms out.